THE VIVACE EXPERIENCE®
The FDA-cleared Vivace® Microneedle RF device is the newest generation of radiofrequency microneedling. It is minimally-invasive and works by stimulating the natural production of collagen. 
WHAT TO EXPECT FROM MICRONEEDLING
Microneedling is an excellent minimally invasive option for patients looking to rejuvenate their face, and the Vivace Experience® is more than standard microneedling. The Vivace Experience® uses the newest generation of radiofrequency microneedling to give patients customized, optimal results.
Benefits of Vivace RF Treatment
Diminishes facial wrinkles and fine lines
Improves skin tone and texture
Tightens and tones the face and neck
Reduces skin laxity or sagging
Reduces redness and rosacea
Vivace RF can also be combined with many other in-office treatments to achieve accelerated results.
What Should I Expect in Office?
Step 1 | Topical Anesthetic
We start by using a prescription strength numbing BLT cream containing lidocaine, tetracaine, and benzocaine.
Step 2 | Begin Treatment
MICRONEEDLING AND RADIOFREQUENCY
Next we proceed with the best-in-class Vivace® Microneedle RF device, designed for the most comfortable experience.
During the treatment, the microneedling practitioner will use the Vivace® microneedling device. This device combines microneedling and radiofrequency treatments into a single treatment that provides the benefits of both. The Vivace® device is FDA cleared and can treat from light to dark skin types. This device uses 36 tiny gold-plated needles.
The microneedles will penetrate the patient's skin, making the collagen-stimulating micro-injuries. The Vivace® has a series of special design features meant to ensure patient safety and comfort. As the needles create micro channels, RF energy will flow through the needles, stimulating rapid healing.
Most treatments take around 30 to 60 minutes!
Step 3 | SOOTHE MASK
After your treatment, we will apply the soothe mask to help you relax. This mask contains Binterin (CD99) peptides in a cooling solution which promotes faster healing with less skin irritation and redness.
Lastly, we'll send you home with the official, carefully developed recovery system which includes a boost serum to make sure you get the best results faster!
Step 4 | BOOST SERUM
After the treatment, patients will be given a specialized boost serum to help their skin heal faster with better hydration.
The soothing mask and specialized RF enhanced microneedling treatments are supported by the boost serum to provide ideal results.
FAQs
What's the Difference Between Vivace RF and Standard Micro-needling?
The main difference between standard micro-needling and Vivace RF is that the prior works by stimulating your skin's collagen production that can decrease after age 20. For this reason, your skin begins to dull, age, and delay healing. The combination of radio frequency technology during Vivace RF also stimulates elastin: resulting in tighter skin and correction of deep acne scars. Vivace RF is an exceptional option for those concerned about any signs of aging.
WHAT IS RECOVERY LIKE AFTER MY VIVACE EXPERIENCE®?
One of the major advantages of the Vivace Experience® compared to traditional microneedling is a faster recovery period. After the procedure, patients may experience minor redness or swelling in the treatment area. However, this will fade quickly and should be less significant compared to traditional microneedling.
Unlike other microneedling treatments, skin redness will not be a significant concern, thanks to our specialized soothing mask.
WILL I HAVE PAIN AFTER MY VIVACE EXPERIENCE®?
Most patients should not experience pain during or after their procedure. Minor discomfort may occur during the treatment or within the first few days after treatment.
CAN I COMBINE MY VIVACE EXPERIENCE® WITH OTHER PROCEDURES?
Yes. We offer specialized post-treatment skin serums from SkinCeuticals that include vitamins C, E, & ferulic acid. This serum is an advanced topical anti-aging serum designed to reduce the impact of sunlight and other aging factors. This product can be used 48 to 72 hours after your Vivace Experience®.
Pre Treatment
While pre-conditions vary case by case, your doctor may prescribe antibiotics to prevent any bacterial infection. You will have to discontinue any supplement or medication and quit smoking for at least two weeks.
WHAT SHOULD PATIENTS AVOID AFTER TREATMENT?
Patients should avoid vigorous exercise for two days following the Vivace Experience®. They should also avoid makeup products and direct sunlight for up to three days. Furthermore, patients should not use exfoliating products for at least a week after treatment.
Post Care
TREATMENT SERUMS & RECOVERY CARE MAKE THE DIFFERENCE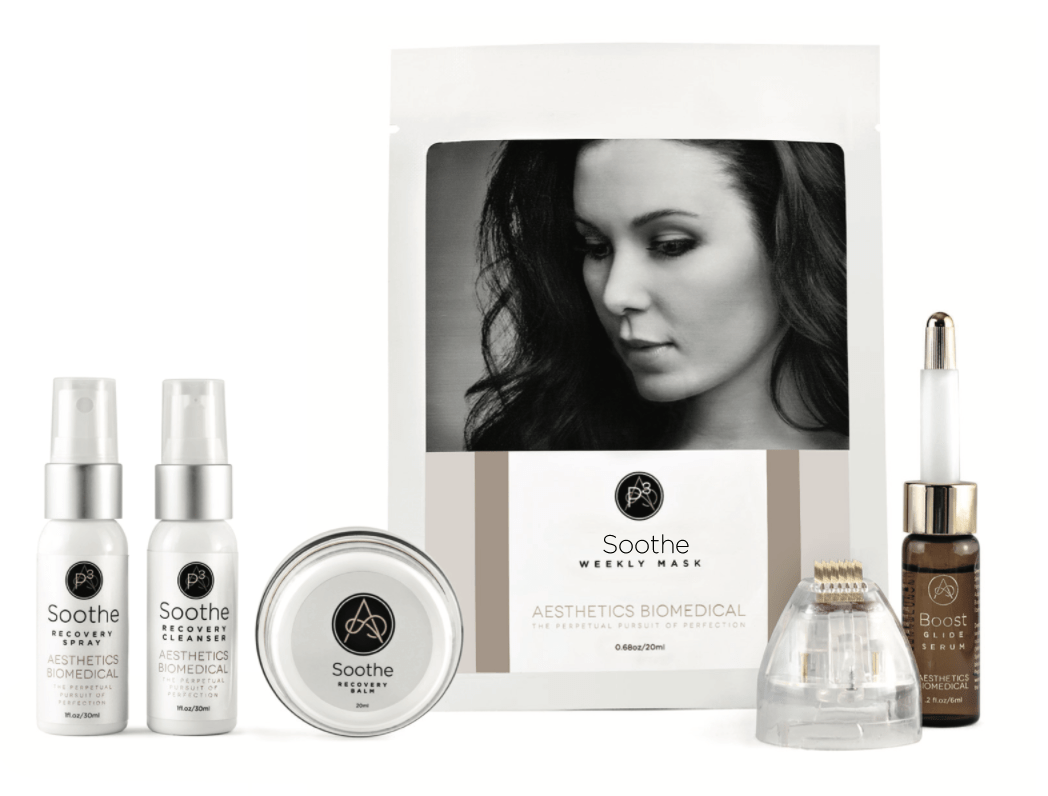 Vivace® RF Microneedle
This best in class device combines microneedling with radiofrequency energy and a specialized treatment serum and a cooling peptide mask to provide patients with superior, natural-looking results.
Optimal Treatment Serum
Our Boost Serum is a triple-peptide glide serum that contains naturally occurring amino acids Adiponin and Syndermin; powerful tripeptides that deliver advanced skincare benefits and are the building blocks of great skin. Boost Glide Serum is a specially formulated lubricating gel used during treatments, or at home, and supports the patient experience of successful immediate outcomes. A few drops can be applied by hand daily.
Optimal Treatment Mask
Our Soothe Mask is a breakthrough innovation that combines Binterin (CD99) peptides in a cooling fluid for procedures, microneedling, and peels. Soothe can be used in conjunction with your regular skin care regimen. Place the mask directly on the face, making small adjustments for your eyes, nose, and mouth. Recline and relax for 10 to 20 minutes. Massage any remaining product into the neck and hands when the mask is removed.
Click the 'Book Now' button to experience Vivace…